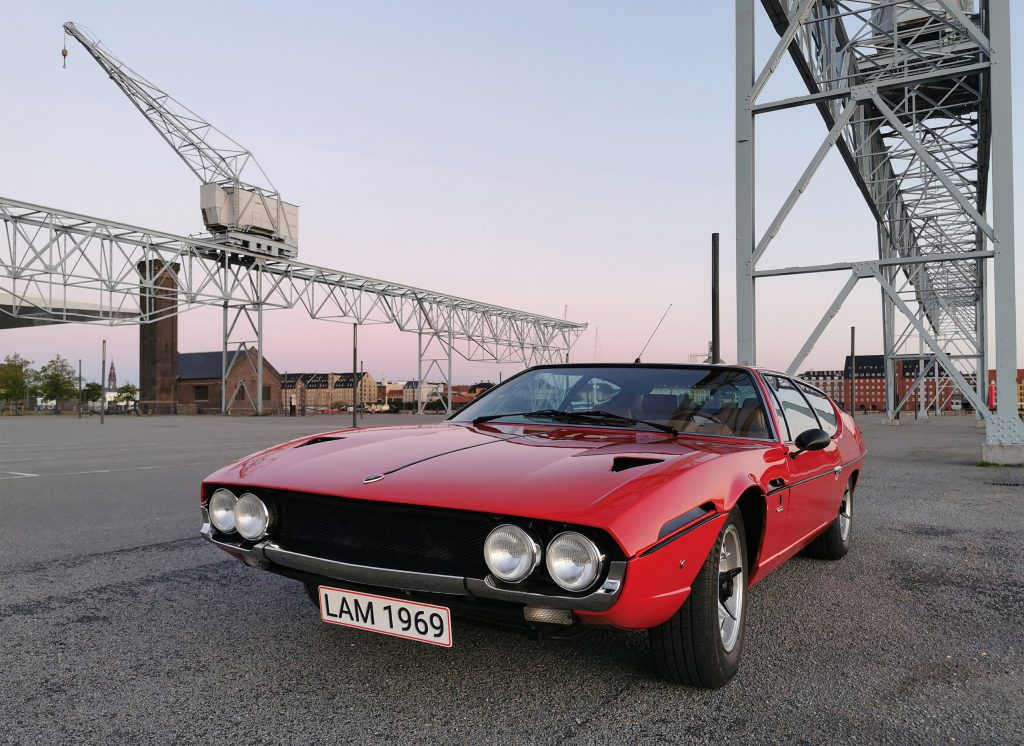 Asking price: 125.000 EUR
Summary
Delivered new to Switzerland and currently located in Denmark.
3 owners since 1st registration in April 1969.
One of only 186 Series I cars produced.
Chassis no. 7198
Engine no. 2997
Bertone body no. 69
Equipped with ZF power steering, air conditioning, Girling MKIIB brake boosters which are all extremely rare in a Series I car.
The odometer shows 87.000 KM.
EU/DK tax, toll and DK registration fee are paid and the car are currently on danish license plates.
The vehicle is approved on 25 august 2020 by the danish car inspection until august 2028.
Now you have the chance to acquire a unique piece of car history. This Espada S1 from 1969 most likely ran off the assembly line as number 66. The car was sold new in Switzerland in April 1969 to Mr. Pont who was a successful Swiss baker. According to the website Lamborghini Registry this car was originally delivered in Silver paint with black interior but I don't think the black interior is correct. The car was painted red after a complete restoration in 2001 and has tan/champagne interior. The interior looks great with beautiful patina but very original so I would guess it has never been black.
The knock-off spinners are original black painted which was seen on very few Espadas, and together with the ZF power steering and air conditioning makes this car an unusual well equipped S1.
In 2003 I bought the Espada from it's 2nd owner Mr. Dupont, and drove it from Lausanne, Switzerland to Copenhagen, Denmark
The car is in very good mechanical condition, the body and interior has beautiful patina without any eye-catching flaws. It has always been stored indoor during my 17 years of ownership and has not been driven in rain or winter.
The engine runs perfectly and the car drives very well, but the rear suspension springs are a little soft and a replacement is approaching.
The air conditioning compressor unit is currently not installed but are supplied with the car. I do not know if it is functioning but I assume it will need a rebuild.
Repair history
1st owner Mr. Pont (CH) 1969-
Unknown
2nd owner Mr. Bournet (CH) -2003
– All inner engine and gearbox parts + suspensions + brakes + power steering at the Lamborghini Factory
– Major body repair (rust) and repaint.
3rd and current owner (DK) 2003-
– New fuel line, mid and rear sound mufflers, front suspension springs, shock bushes, Wheel bearings, rear drive shafts, joint rubber donut
– Rebuild of the original Koni dampers by a specialist
– Wheel alignment
– Brake booster and brake rebuild
– Weber Carb rebuilds
– Electric windows service and new rubber channels
and off cause running service such as oils, fluids, rubber gaskets, leather care, paint protection etc. The car has during my ownership been stored in my humidity controlled garage (max 65 % RH).
Read more about the cars history on this blog.
For any inquiries please contact info@lamborghiniespada.com
Right front
Right rear
Left front
Left rear
Underbody
Aircon compresser unit